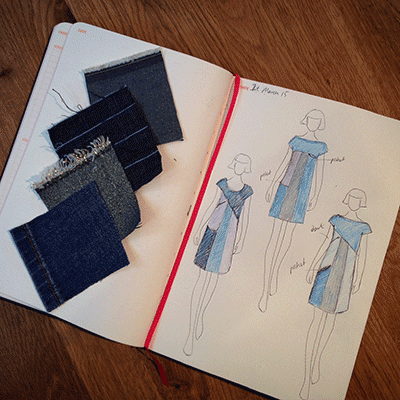 I am loving denim at the moment. It seems to make everything look good and is SO easy to sew with. It holds its shape well, washes well and I love the cool, casual look.
There are so many shades and textures that are out there – everything from heavyweight builder style to linen mixes and silky chambrays.
I have designed and made a lot in denim over the years – here are my original sketches for the Essential Denim Dress, a pattern that has become on of my best sellers. The mix 'n' match denim ties in with that 70's vibe that is so current. I used 4 different denims – well actually, 8, if you count both sides of each one – that double sidedness is one of the joys of denim!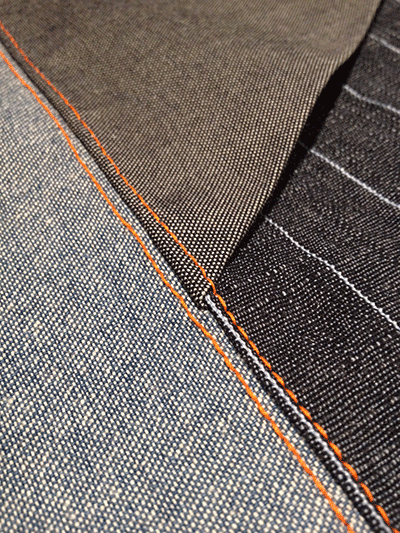 And for a TRUE denim look, of course, it is finished with a double line of top stitching. I used a thick orange cotton in classic Levi style.
Twin needles are REALLY easy to use and give a great decorative effect. You just thread up 2 spools on the top of your machine (most machines have space for 2 if you look). You take the 2 threads  through the top section together and thread one into each needle. Your bobbin at the bottom stays the same. There is a good Youtube tutorial by Bernina just here.
A twin needle only cost a few pounds and is well worth it for the pro finish it gives your garments. The double line of stitching also looks particularly good on jackets to emphasise a fitted shape.
You can get twin needles in a variety of different widths, sometimes several different ones in a packet. I have found that the wider ones bridges a seam nicely while the narrower ones are great for purely decorative stitching.
BUT you don't have to just stick to the traditional double line. Using the famous orange on navy blue colour combination, I have used some of the decorative stitches on my Bernina to great effect on denim. One of my favourites if this one (stitch number 35 on the Bernina 350) which is a chunky wave. It looks great round a neckline or a hem.
You don't have to stick to the orange and blue colour combo either. On this casual version of the Colour Block Dress, I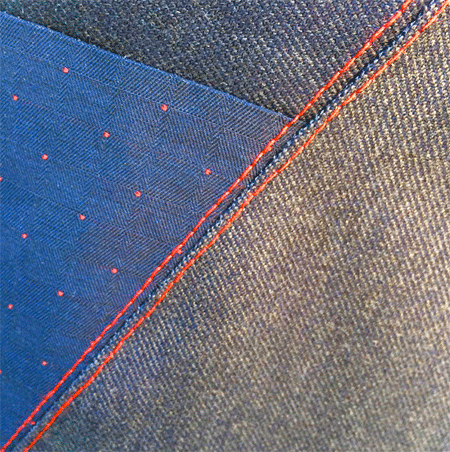 mixed a traditional denim, a pindot herringbone and a fabulous two tone navy wool remnant with a single red pinstripe running through it. And then added the finishing touch by picking up the bright red of the pindot with matching red topstitching.
On the whole denim is easy to handle and easy to work with, but here are a few tips to consider before you start on your own project:
• Always pre-wash your denim as it often shrinks.  It can also leak colour on the first few washes. Double wash it to be really safe!
• You can buy a specific denim needle –  they are just a little sharper and stronger than a standard needles. 
• Pay close attention to your grain line – if you are "off" it can cause twisting in denim.
• Sometimes denim stretches as you sew it – the solution to this is to use a walking foot which help your top and bottom fabrics feed through at the same rate.
---
Of course there are LOADS of patterns that can be made up in denim but here are a few of the best ones I have come across specifically for denim fabric.
.
Simplicity do a classic belted denim shirt dress – (Simplicity 8014). This vintage shirt dress pattern for Miss and Miss Petite features full length dress with collar and long sleeves, knee length dress with slim or flared skirt, and mini dress with collar and shirt tail hem.
.
.
.
Sew Different's Everyday Chic Dress, though not strictly for denim only, is made up on the front cover in a chambray. It has an elasticated panel at the back for a comfortable fit, a boat neck with a V split, gathering under the bust and deep pockets. It comes in UK sizes 8 – 20.
.
.
Burda Young do a pattern for a classy jeans jacket that comes in different lengths (and just as chic when sewn from other materials.) Burda 7018 is a basic one garment must have. It's perfect for Autumn and Winter – check out the really lovely version done with faux fur on the packet cover.
.
.
.
Misses Kwik Sew No. 3897 do a pattern for dungarees / overalls that come in sizes  XS-XL. These overalls have a fake fly, double bib with patch pocket, front side pockets, shoulder straps with buckles, side openings with button closures, back patch pockets, and topstitching detail.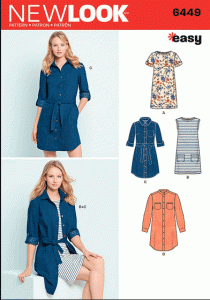 .
.
New Look do a  comfortable and causal pattern in their EASY range here for a really simple shaped denim dress suitable for all types of denim (as well as other fabrics.) The shirt dress has optional collar, and the knit tee shirt dress can be sleeveless with two patch pockets, or short sleeved with a chest pocket.
.
.
Sew Different's pattern for the Essential Denim Dress is an asymmetric design with a deep pocket to one side. It has cap sleeves and works well as a tunic to wear with leggings or a short dress. This pattern is easy to put together and looks great with top stitching. It comes in sizes UK8 – 20. There is a post about it here.
.
.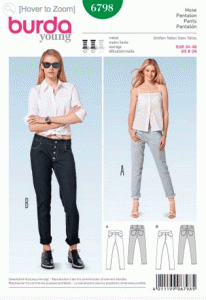 Burda do a pattern for a fab pair of fitted skinny jeans (Pattern 6798 – Fitted Skinny Jeans) All you need is some sewing experience and a little patience. The typical stitching with contrast yarn is imperative. You have 2 options –  with zipper or with riveted buttons.
.
.
.
.
Butterick Misses' Top and Jeans B5895/AX5 do a gorgeous 1950s retro style pair of jeans (sizes 4-6-8-10-12) . These semi-fitted, tapered jeans (rolled-up, wrong side shows) have waistband, side front pockets, stitched hems, and a back zipper.
.
.
Butterick do a jeans pattern with several different options of shape including flared, bootcut, slim ankle length, straight leg and standard. BUTTERICK sewing pattern B5682 MISSES' JEANS & TROUSERS sizes 8 – 22
.
.
.
Burda Young do a lovely denim shirt pattern (Pattern No. 6849) with a young and clean look. The shirt has flap pockets and snap fasteners and looks great with either contrasting or solid colours – it comes in sizes 6-16. Don't forget that Burda sizes are NOT the same as UK sizes.