This dress is one of the nicest sewing patterns I have found on the internet. Its a really interesting looking dress that comes originally from the Great British Sewing Bee series; a short dress or tunic with a slight tulip shape that comes in towards the knees. It has integrated pockets and a front pleat at the top from the neckline.
It is is free to download, but the only drawback it that there are no instructions with it. And believe me, having downloaded it myself, you really do need some instructions. Its not that it is difficult to sew from a technical point of view, its just that how you put the pattern pieces together would be completely unfathomable to a novice seamstress. (The link to the pattern is here) My guess is that the instructions might be in the Great British Sewing Bee book, but I'm not sure.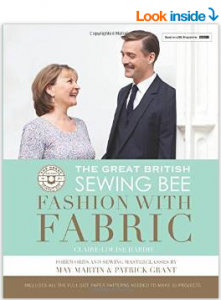 This is the newest book that ties in with BBC's Great British Sewing Bee – Fashion with Fabric.
The pattern says it needs a heavy weight knit. I have decided to go with scuba. If you haven't come across it before, Scuba is quite a new addition to the dressmaking world; it's a bit like neoprene, a strong knit with a smooth synthetic feel. I have very little experience of using it but I had seen this really nice black-on-black snakeskin print that I was quite tempted by. I was assured by the very helpful shop assistant that a thin scuba will behave very much like a heavy jersey with the same stretch and drape qualities. In my machine I used a Bernina jersey needle to prevent snagging which is always advisable on a stretch fabric.
I printed out the pattern and stuck it together, which, I have to say, is very easy as it is numbered on every side. It takes 50 sheets of paper though and took me an hour from start to finish.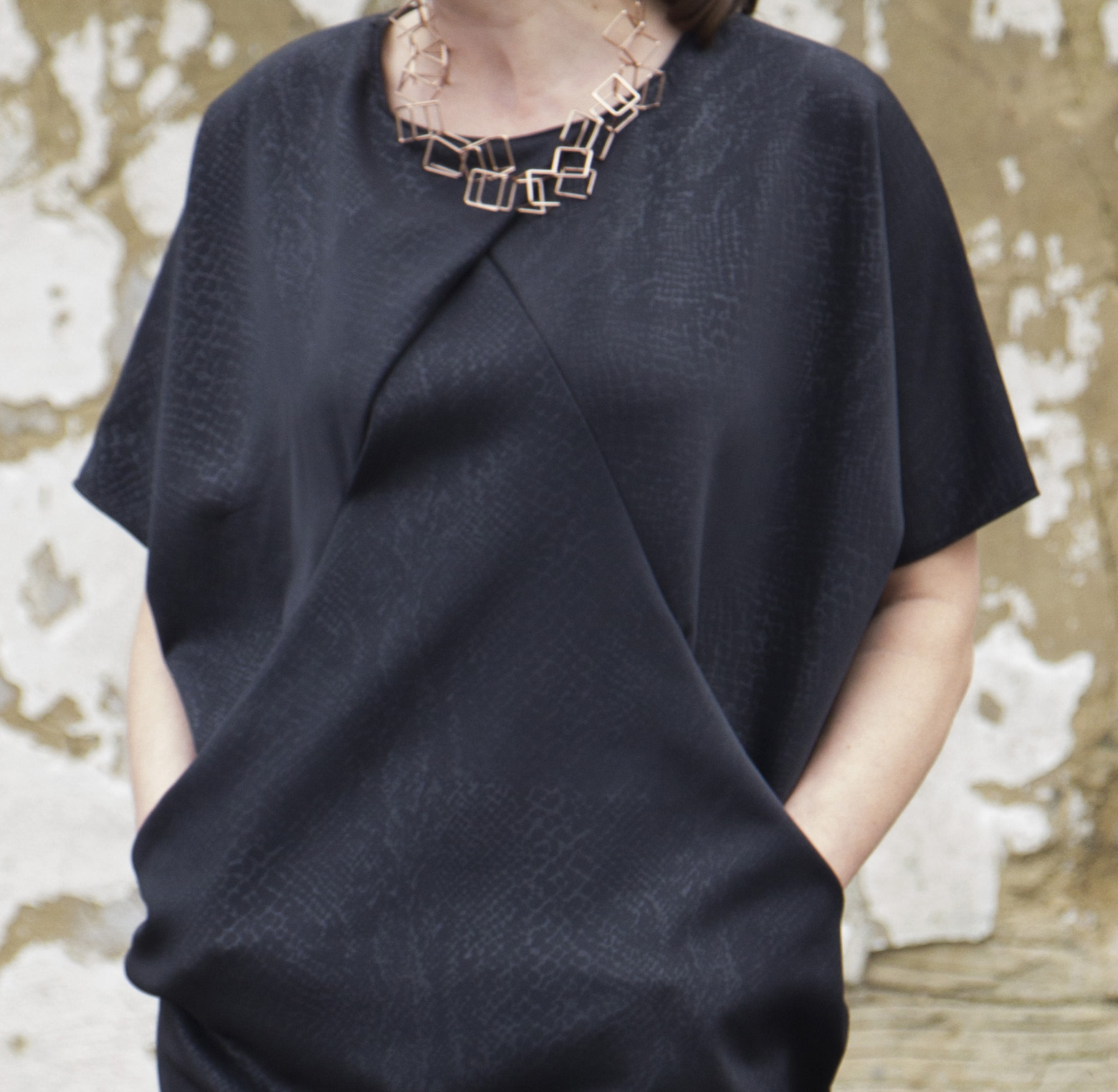 The pattern come in sizes from XS – XL. I took a guess and went with the medium (I'm a UK 12,) cut out my pattern and laid it out on my fabric. I shuffled things around for 10 minutes and did eventually work out how it went together, although the order in which it should be sewn was not clear. However, after some experimentation I worked it out and have put together some basic instructions for you:
Sew the 2 pockets in place along red lines.
Sew the 2 marked pieces together lining up the newly attached pocket with the integral pocket on the other piece.
Do the same on the other side with the 2 pieces shown.
These three sections should come together to form your front panel.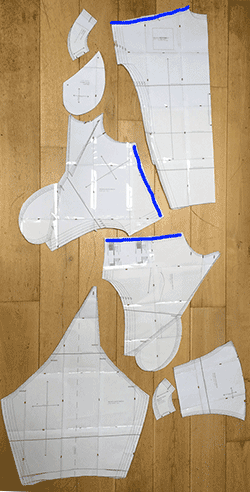 Sew your newly made front panel to your back panel across the shoulders on either side.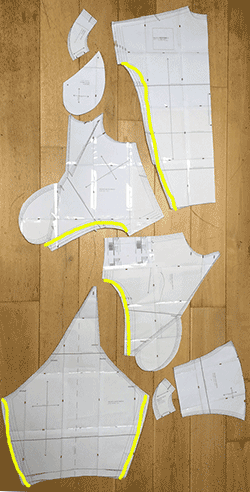 Sew from under the arm down each of the sides to join the front and back together.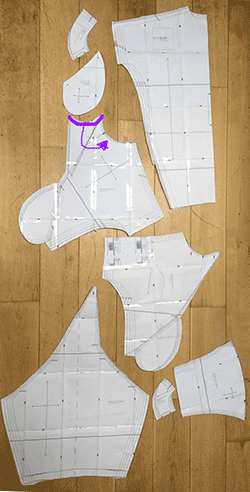 Fold (where marked on the pattern) one neckline curve on top of the other and pin in place. I would try it on at this point to check that it lies correctly. Sew your 2 pieces of facing together to form an oval. Then sew the facing to your neckline using it to keep the fold in place.
My verdict on the pattern – well, I LOVED the way it fitted together. It is such a thrill when really odd looking pattern pieces fit together to make some wearable. It was not simple though – I really wouldn't even attempt this if you are beginner because of the lack of detailed instructions. However, it has taken some skilled pattern making to produce this – it lies well and all matches up perfectly. So if you think the shape is for you then it will be a winner. I would say that the medium seems right for a UK12. It is oversized on the top half but comes in quite narrow towards the knee.
And my verdict on working with scuba fabric – well, it is unbelievable easy to sew with. It is very forgiving and you end up with a dress that doesn't look crumpled or wonky. You don't have to finish or overlock the edges as it has no fraying properties. It really is a great alternative to jersey and I will definitely be experimenting with it again.