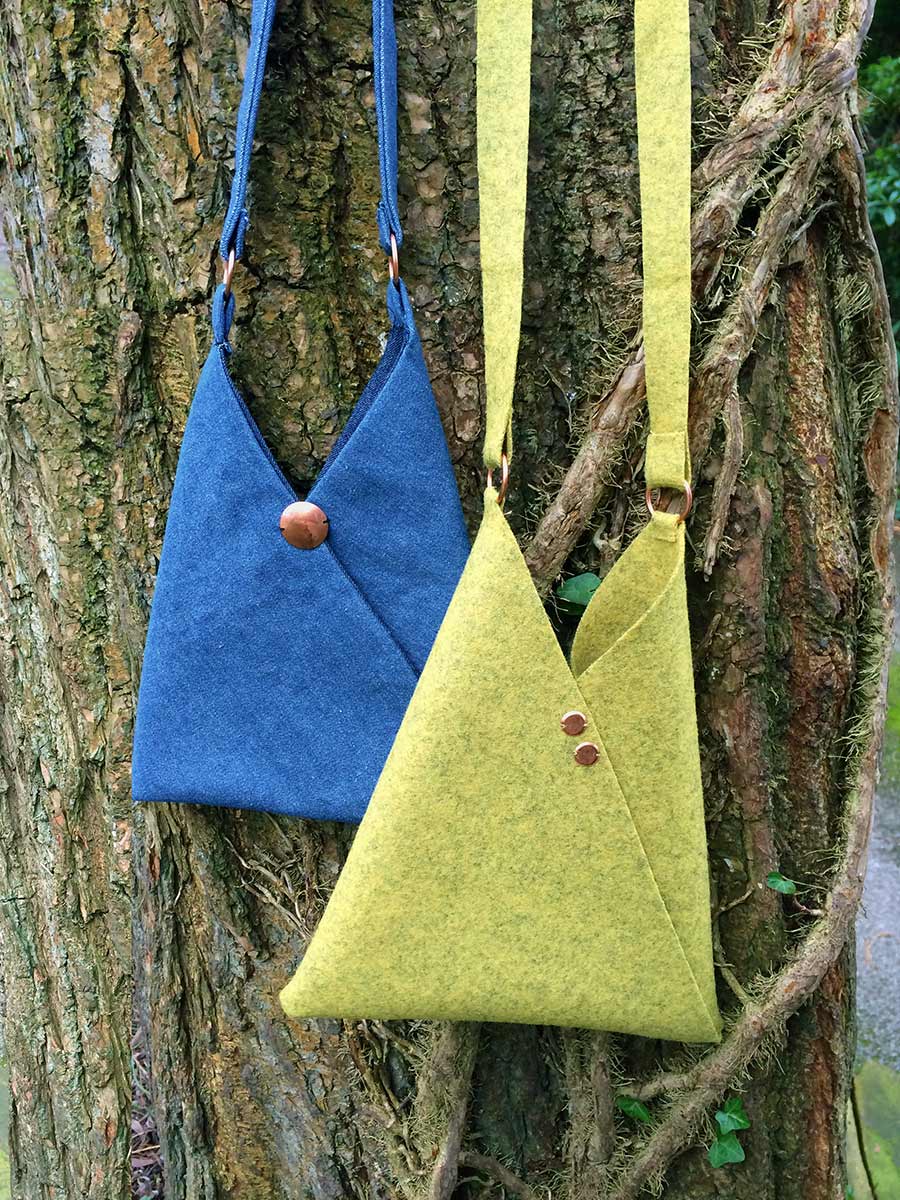 The Origami Bag is a quick project to do in an hour or so. It's such a simple pattern – there are no complicated instructions or technical assembly. Like origami, it just folds into shape to create a little cross the body bag just the right size for your phone and wallet. It's a great way to use up scraps and I LOVE the way you can make a little matching bag with the off-cuts of your other sewing projects to complete your outfit!
The Origami Bag pattern is here for you to download.
The beauty of this pattern is that you can rescale it to any size. As it is here, the bag is 21cm at the base and 25cm high. However, if you alter the scale on the Print Dialogue box when you print it out, to say 200%, then your bag will work out bigger. At a larger size  it would make a great chuck-it-all-in beach bag.
This yellow one on the left is made from a very gorgeous thick marled wool felt that I had in my stash (it's actually a furnishing fabric from Camira) Because felt doesn't fray, I've made the bag as a single "skin" with no lining. As you can imagine it only took a few minutes cutting and assembling. I've photographed it with my favourite silk scarf because they go together so beautifully.
I decided at at the last minute to add a little embellishment and went for a embroidery stitch along the length of the strap. I love this simple bauble design that echoes the little brass dots on the front of the bag – it's design number 50 on my machine which is a Bernina 350 PE.
The blue one is slightly different. Denim frays and so this need to be double skinned. I've made it from two different shades of denim but it would look really sweet with a floral or spotted lining. As you'll see on the pattern, the pink line is there if you want to add seam allowance for a double thickness bag. (For a single skin just use the the black cutting line.) You cut the pattern out in your two different fabrics and, with right sides together, sew your two fabrics together. Then turn inside out and press and fold in the same way as with the single skin.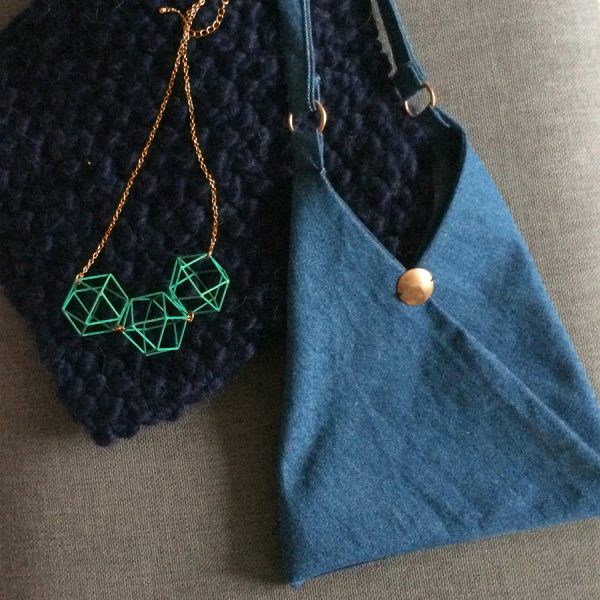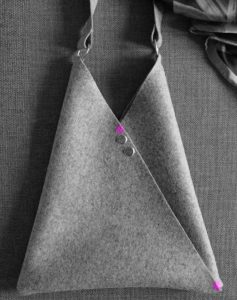 To assemble your bag, use the fold lines that are marked on the pattern. The fabric just needs sewing with a few stitches by hand to hold it in place where the two pieces cross at the top (shown in pink on the image above). I've used some lovely brass embellishments that I cut off an old jacket to cover my stitches but an unusual button would be perfect too.  You'll need to catch it again at the bottom corner too (again marked in pink).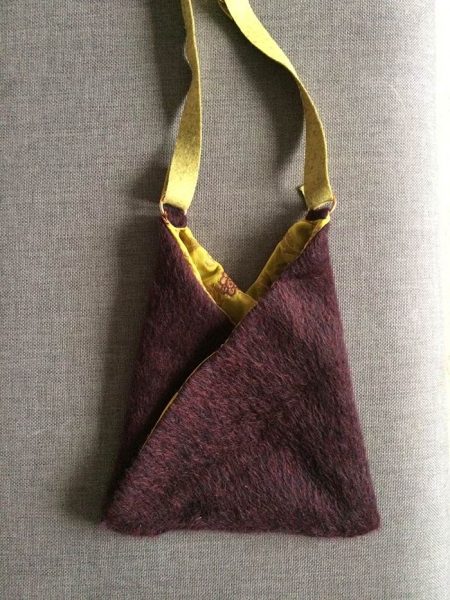 The tags at the top are to fold over and use for your curtain rings. As a strap cut a length of fabric 4 times the width you would like. Fold in inward from either side to meet in the middle and then fold in half. Sew along the length with a running or a decorative stitch.
And finally, as a third alternative, I've made an exotic looking evening version. This fabulous scrap of soft burgundy mohair is lined with some old sari fabric that picks up the colour in the flowers. For the strap I used the off-cuts of the yellow felt.