Here are some of my original sketches for the Parisienne Dress. There are so many lovely jersey fabrics around that I wanted to put their soft and drapey qualities to best use. The Parisienne Dress is really easy to wear AND easy to make. It is loose fitting with a cowl neck and, being wide across the shoulders, is particularly flattering for pear-shaped figures (like mine). You can belt it in or, alternatively, you can cut it a bit shorter and wear it as a tunic.
You can download and print your FREE pattern at home. Just tape the pages together to make the full pattern. (FREE PATTERN HERE) It comes in a UK size 12, but there are instructions to help you resize it if you need to.
I have made the Parisienne Dress here, on the right, in a knitted jersey, inspired by some of the beautiful Missoni knitted fabrics I have seen recently. This lovely blue and purple fabric is from Fabworks Mill Shop. The belt is just some matching fabric folded over a couple of times and oversewn.
The key to the Parisienne Dress is using a fabric that drapes well. It doesn't have to be a stretch fabric like I've used but it does have to hang smoothly without too much bulk. Whatever fabric you choose, it needs to be something that drapes really well so that the cowl neck falls softly. Silks, viscose and jerseys will all work really well for this dress.
The bottom hem has curved vents at the side which give it a little design difference. These curves are finished with bias binding which you can either make out of your leftover scraps of matching fabric (have a look at the post on my website for how to make bias binding) or you can just buy some ready-made from a haberdashery store.
In case you're not familiar with them, I'm showing you an example of one of Missoni's amazing knitted dresses just here to inspire you. Knitted fabrics are so soft and comfortable to wear and work equally well as evening wear (for a touch of 70s glamour) or as a casual beach cover up.
Here is the Parisienne Dress made up in lime and aqua – a summer version! Again, it's made from a stretch fabric, but this time from a really lovely lightweight jersey (I think its a Liberty print) that hangs beautifully.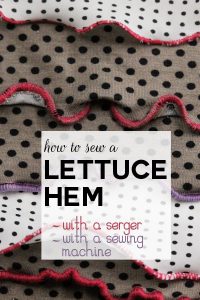 I have deliberately stretched the fabric on the hem as it goes through the machine to give it a wiggly finish. This is sometimes know as a lettuce hem and I have found a good tutorialon Craftsy for anyone who fancies having a go – click on the image to link directly to it. I would test this on some leftovers first to check it works as all fabrics behave differently. Again, this lime and turquoise fabric is from Fabworks Mill Shop.
Happy sewing!