I'm not usually into vintage styling but I've taken up dancing recently and so tea dresses have taken on a whole new appeal. There are quite a few patterns kicking around the internet. I decided to try this one from Veravenus – it was easy to access (no need to subscribe to anything) the instructions are really comprehensive and I particularly liked the slash neckline. The link is here – scroll down the page till you get to the 50's style dress – the free download is there. (There are some other good free patterns to be found on this site as well.)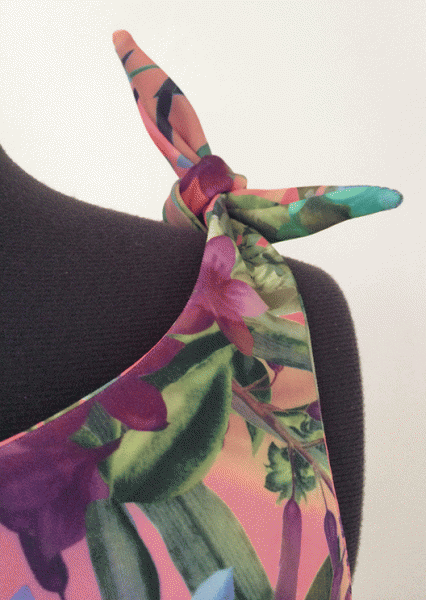 I have added my own little twist to the 50s dress with the knotted shoulder straps. I explain how to do that a bit further on.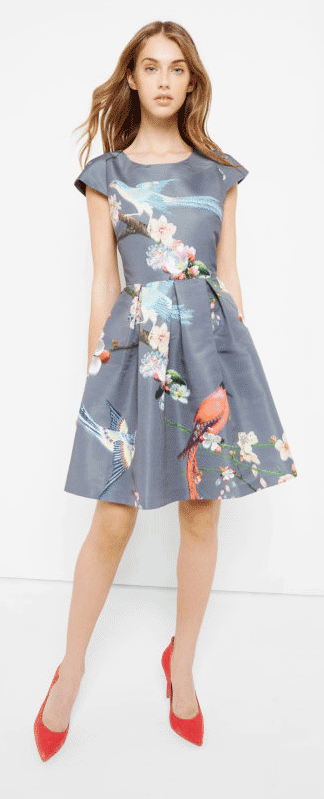 I have long admired these gorgeous skater dresses (below) from Ted Baker and they were really the inspiration for my choice of fabric. There are a lot of tropical prints around at the moment but I was particularly taken with this amazing tropical Hawaiian scuba that I found at Fabworks Mill Shop. (It's sold out now but they do some other great patterned scubas. Have a look at the bottom of the page for inspiration.)
Now, scuba is not usually my first choice of fabric. If you are not familiar with it, scuba is quite a new addition to the dressmaking world; it's a bit like neoprene, a strong knit with a smooth synthetic feel. (It's often used for bodycon dresses which are not my cup of tea). If you have no experience of using scuba, it will find that it behaves very much like a heavy jersey with the same stretch and drape qualities.
The dress pattern comes as a UK size 10 – that's a European 38. I'm a 12 so I just added on half an inch to the width of each of the bodice panels. The instructions are really clear although I would say the shape was fractionally short in the body for me. (I'm 5ft 8 – that's 173cm) I wish I'd cut the bodice an inch longer. For help scaling this pattern up or down, have a look at the Making a pattern fit page on my own website – Sew Different – which tells you how much to increase or decrease for each size – NOTE: be aware that the increases on this page are from a size 12 whereas this pattern is a size 10.

To make the ties you just need draw out this shape on the right and add it to the shoulder straps on the front and back bodice – don't forget to add it to the facing as well! I forgot and had to add it on afterwards. I would secure the two ties together where they would normally have joined, by crossing them over and running a line of stitching across. (See diagram below.) This allows you to tie a pretty knot that ends up in the right place without any slipping.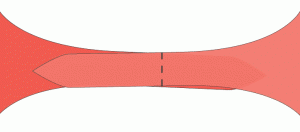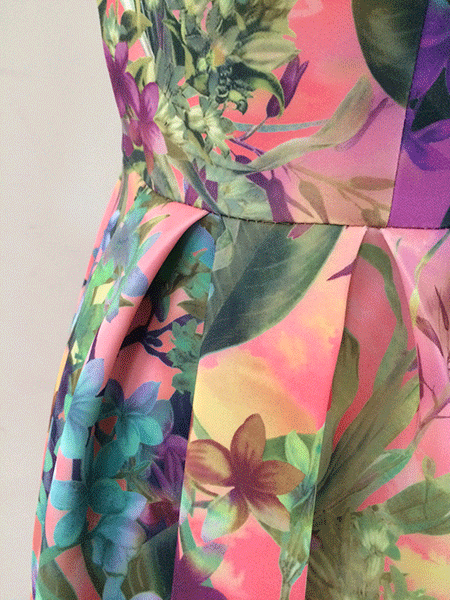 Scuba fabric works perfectly for a dress like this. It holds its shape really well, and is VERY easy to work with. The only thing is that it can be a little bulky and I spent quite a bit of time snipping away any excess fabric on the pleats to make it sit well. It feels nice to wear, very soft and smooth, although I'm not sure it would be so great in a hot climate. I think it might be a bit sticky!
This particular fabric coral coloured that I used for the dress has sold out now but here are a few more tropical scubas to inspire you:
I have recently come across another range of fabrics that would also work really well with this particular sewing pattern – John Kaldor. They are a London based fabric manufacturer. They have some fabulous quality, heavy weight crepes that come in some really gorgeous patterns. It hangs beautifully, holds its shape, doesn't crumple and is well worth the £10/metre. I got mine from Sew Essential.
Here are a few (see right) that I think would work particularly well with this pattern.
The fabric has a slight sheen to it which would give the dress a bit of a posher look than my more everyday version. It would be great to wear to a wedding or for a summer party.